The customer has a 50 degree roof and because of the large volume of the high level roof space, they were particularly keen to achieve high level ventilation to avoid a future condensation risk. We developed the 75° ridge to perfectly fit this home. 
Currently, they were not confident other current systems available could provide the correct amount of free-air ventilation for the roof. Upon discovering the Mayan all-in one ridge, they realised it would fully satisfy the requirements for this job whilst at the same time providing the exceptional appearance of a natural slate ridge with invisible connectors. They asked us to specially make these ridges to suit the steep angled roof, which incorporate our 5mm vent strip and dry-fix waterproofing connector.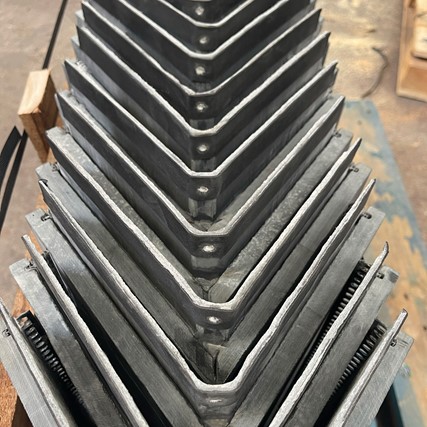 Our preformed angular slate ridge tiles are manufactured here in the south of England and distributed nationally. We are able to custom make beautiful real slate ridge tiles for any project, in any angle and from any type of slate and stone. So why not get in touch if you need a new solution for your ridge? 
Large range of stock angles and styles also available.